Top 49 Lawyers, Legal Journalists, and Law Professors to Follow on Twitter
Written by Jason Quey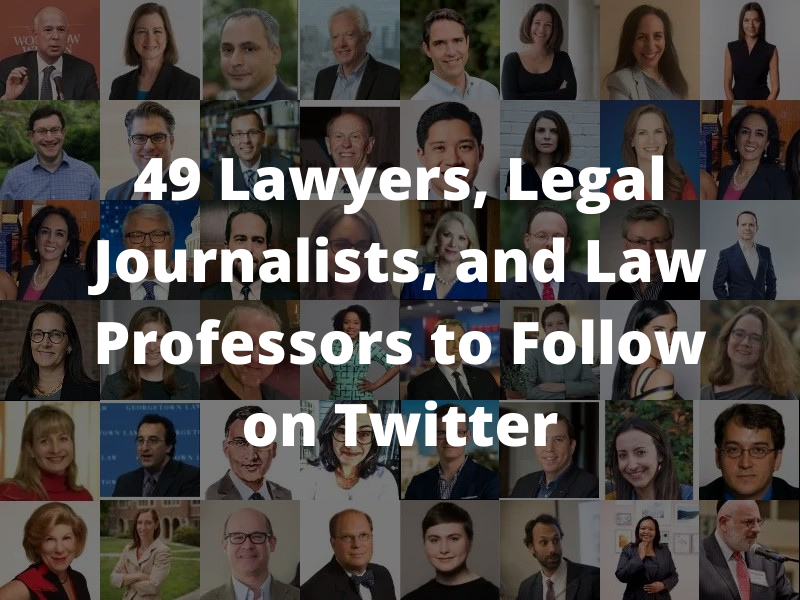 Working in the legal field is a mentally stimulating career. It seems there's something new to learn every day.
At Contract Hound, we have the privilege of helping those in legal, finance, marketing, and other departments manage their contracts using reminders. One of the reasons our customers love us over other contract management software tools is that we save them time by never losing track of a contract again.
Another way to help out some lawyers was to curate a list of the top lawyers on Twitter. Get plugged into law Twitter. Stay up with the latest legal news, trends, and events. So you can save time and invest more into work that matters.
We curated this list of lawyers on Twitter by using a combination of the number of followers and Twitter engagement per tweet. We used these numbers and came up with a social impact score. We then ranked each person by this score. Since personal accounts are more likely managed by that person and thus more genuine, we chose to ignore company Twitter accounts.
49. Casey Sullivan
Social impact score: 335
Casey Sullivan is a featured writer for Business Insider. He writes stories about the personalities and trends behind private equity and the legal profession.
Some of his recent stories include an account of law firm Paul Weiss's relationship with private equity giant Apollo and a profile of Blackstone president Jon Gray.
48. Jacob Gershman
Social impact score: 345
Jacob Gershman covers law for The Wall Street Journal. He previously wrote about New York politics for the Journal and the New York Sun.
Jacob and his writings have been seen in MSN, MarketWatch, New York Magazine, Yahoo, The Australian, Business Standard, Fox Business, Barron's, AsiaOne, Pioneer Press, Helsingin Sanomat, Above the Law, The Waterloo Region Record, Global Finance, RealClear Policy, RealClear Education, and MarketScreener.
47. Sara Randazzo
Social impact score: 398
Sara Randazzo is a legal reporter for The Wall Street Journal in Los Angeles. She covers the country's biggest law firms, the broader legal industry, corporate legal developments, and the plaintiffs' bar.
Sara joined The Wall Street Journal in 2014 to cover bankruptcy, and previously reported on law firm business at The American Lawyer and the San Francisco Daily Journal. She is a graduate of UCLA and a native Californian.
46. Colin S. Levy
Social impact score: 450
Colin Levy has focused his efforts on working for companies that have been in unique industries where business, technology, and the law meet. During his time working for these companies, he started to write and publish his thoughts about what he was learning as an in-house attorney. He started to hear about this legal tech world where lawyers and others were seeking to use technology to automate some of their work.
Colin started having conversations with some of these atypical legal professionals and he was hooked on learning more. He then started to supplement his published thoughts on in-house work with interviews of some of these innovative legal leaders.
Colin became obsessed with legal tech and educating others about it and advocating for its further adoption by the legal industry. He sees technology as facilitating new ways of innovating, performing, and delivering legal services.
45. Joshua Lenon
Social impact score: 487
Joshua Lenon is the Lawyer in Residence at Clio. An attorney admitted to the New York Bar, Joshua brings legal scholarship to the conversations happening both within Clio and with its customers.
Joshua has worked extensively to educate lawyers on technology's capability to enhance their practice, while also teaching tech companies about the unique needs of the legal system.
44. Daniel Martin Katz
Social impact score: 491
Daniel Martin Katz is a scientist, technologist, and professor who applies an innovative polytechnic approach to teaching law – to help create lawyers for today's biggest societal challenges. Both his scholarship and teaching integrate science, technology, engineering, and mathematics.
Daniel's forward-thinking ideas helped to earn him acknowledgment among the Fastcase 50, an award which "recognizes 50 of the smartest, most courageous innovators, techies, visionaries, and leaders in the law." He was also named to the American Bar Association Journal's "Legal Rebels," a prestigious group of change leaders in the legal profession.
43. Daniel W. Linna Jr.
Social impact score: 516
Daniel W. Linna Jr. has a joint appointment at Northwestern Pritzker School of Law and McCormick School of Engineering as the Director of Law and Technology Initiatives and a Senior Lecturer.
Dan's teaching and research focus on innovation and technology, including computational law, artificial intelligence, data analytics, leadership, operations, and innovation frameworks.
42. Cat Moon
Social impact score: 531
As director of innovative design for the Program on Law and Innovation (PoLI), Caitlin "Cat" Moon designs the J.D. curriculum for PoLI.
Cat also founded and directs the PoLI Institute, which provides interactive post-graduate executive education to legal professionals. She also co-founded and produces the Summit on Law and Innovation, which brings together experts across legal, technology, and other disciplines in collaborative innovation projects.
41. Carolyn Elefant
Social impact score: 625
Carolyn Elefant is a veteran energy regulatory attorney.
Carolyn has over 25 years of experience, first as an attorney-advisor at the Federal Energy Regulatory Commission, then at several large law firms and boutique energy practices in Washington D.C., and since 1994 as the principal attorney of her firm.
Since 2011, Carolyn has been routinely listed as a Super Lawyer in energy and natural resources law in Washington D.C., one of just two small firms on a list of large firms She is also regularly quoted in trade press publications.
40. Karen Vladeck
Social impact score: 844
Karen Vladeck is a partner at Wittliff Cutter PLLC where she represents corporate, start-up, and non-profit clients in the resolution of disputes pending before the EEOC, state employment agencies, and state and federal courts.
Karen has extensive experience helping employers comply with Title VII, the ADEA, the ADA, the Pregnancy Discrimination Act, the FLSA, and the False Claims Act and defending them in any related claims. She has worked with clients across an array of industries, including hospitality, fashion and luxury goods, higher education, real estate, sports, insurance, television, technology startups, trade associations, and nonprofits.
In addition to her law practice, Karen and her husband Steve Vladeck host a popular parenting and law podcast called In Loco Parent(i)s about the balance of raising two young kids while juggling demanding careers.
39. Jordan Furlong
Social impact score: 896
Jordan Furlong is a legal sector analyst who's deeply invested in a better future for the legal profession and the society it serves.
Jordan spent the past 20 years studying critical new developments and discerning emerging patterns in the legal services ecosystem. He uses these insights to advise legal organizations on how to plan their strategies and achieve their goals.
Jordan's work focuses on three areas:
Lawyer Formation, encompassing the growth of lawyers from law school through bar admission and their continuing competence and professional development thereafter.
Legal Regulation, encompassing the governance of lawyers, the regulation of legal services providers, and the reform of legal regulatory systems.
Legal Industry Change, encompassing the rise of new competitive forces, the emergence of new legal business models, and the role of the lawyer in the 21st century.
38. Paul Rosenzweig
Social impact score: 939
Paul Rosenzweig is an accomplished writer and speaker with a national reputation in cybersecurity and homeland security.
Paul is the founder of Red Branch Consulting PLLC, a homeland security consulting company, and a Senior Advisor to The Chertoff Group.
Paul formerly served as Deputy Assistant Secretary for Policy in the Department of Homeland Security. He is a Professorial Lecturer in Law at George Washington University and a Visiting Fellow at The Heritage Foundation.
Paul is an advisor to and former member of the American Bar Association Standing Committee on Law and National Security and a Contributing Editor of the Lawfare blog. In 2011 Paul was a Carnegie Fellow in National Security Journalism at the Medill School of Journalism, Northwestern University, where he now serves as an Adjunct Lecturer.
37. Nicole Black
Social impact score: 1,220
Nicole Black is an attorney and the Legal Technology Evangelist at MyCase. Her legal career spans nearly two decades and she has extensive litigation experience. She was named an inaugural ABA Legal Rebel in 2009 and an inaugural Fastcase 50 in 2011.
Nicole is also a well-known legal technology author, legal journalist, and speaker. She wrote "Computing for Lawyers" and co-authored "Social Media: The Next Frontier", both published by the American Bar Association. She also co-authors "Criminal Law in New York," a Thomson West treatise.
36. Gayle Trotter
Social impact score: 1,230
Gayle Trotter is a 'liberty-loving and tyranny-hating' conservative attorney, political analyst, and columnist with an insider's view of Washington, DC.
Gayle has an audio and video podcast called, "The Gayle Trotter Show: RIGHT in DC." She is a frequent commentator on TV news programs such as NewsMax, OAN, EWTN, Daily Caller, and Fox. She contributes to The Hill, The Daily Caller, Townhall, and other well-known political websites, and she is a guest on radio shows across the country.
35. Oona Hathaway
Social impact score: 1,239
Oona Hathaway is a professor at Yale Law School and Political Science at Yale University. She is also a Counselor to the Dean at Yale Law School.
She has published more than 30 law review articles and The Internationalists: How a Radical Plan to Outlaw War Remade the World.
34. Kevin O'Keefe
Social impact score: 1,274
Kevin O'Keefe is a trial lawyer turned legal tech entrepreneur. He is the founder and CEO of LexBlog, a legal blog community of over 30,000 blog publishers worldwide. LexBlog's publishing platform is used on a subscription basis by over 18,000 legal professionals, including the largest law firm in each India, China, and the United States.
33. Rebecca Miano
Social impact score: 1,328
Mrs. Rebecca Miano is the Managing Director and CEO of Kenya Electricity Generating Company PLC (KenGen), East Africa's largest electricity generating company. Mrs. Miano is a seasoned corporate governance and renewable energy expert with over 30 years of experience in the energy sector. Over the years she has been involved in structuring regional and international multi-million public infrastructure projects, development of regulatory framework on sustainability and climate change, energy policy development and implementation, and business law.
Mrs. Miano is a lawyer by profession and an advocate of the High Court of Kenya. She holds a Bachelor of Law degree and a Diploma in Law and Post-graduate studies in Comparative Law. She is a registered Certified Public Secretary of Kenya and a member of the Institute of Certified Public Secretaries of Kenya (ICPSK). She was awarded state honors in the Order of the Grand Warrior of Kenya. In 2019, she received the Moran of the Order of the Burning Spear in recognition of her outstanding service to the nation.
Mrs. Miano has been appointed to several significant expert and advisory positions on renewable energy, climate change, and gender. Among these, Mrs. Miano is a Board Member, World Bank Group Advisory Council on Gender and Development, Board Member, United Nations Global Compact Network Kenya Board, and Member of the Gender Sector working Group coordinated by the State Department of Gender, Kenya.
Mrs. Miano has been named among the Top 100 Women CEOs in Africa by Reset Global People in partnership with Pulse and Avance Media, won the Company Secretary of the Year award in the Champions of Governance Awards series, awarded African Business Leadership Award as Africa Business Inspirational leader 2020, making it to the 2021 top 25 movers and shakers watchlist by the African Energy Chamber.
32. Bob Ambrogi
Social impact score: 1,438
Bob Ambrogi is a lawyer and legal journalist who has been writing and speaking about legal technology and legal innovation for more than two decades. He writes the award-winning blog LawSites, is a technology columnist for Above the Law, and hosts the podcast about innovation in law, LawNext.
In 2011, Bob was named to the inaugural Fastcase 50, honoring "the law's smartest, most courageous innovators, techies, visionaries, and leaders." In 2017, Bob received the Yankee Quill award for journalism from the Academy of New England Journalists. Later that year, Bob was honored by the ABA Journal as a Legal Rebels Trailblazer.
Bob is also a practicing lawyer who represents news organizations and serves as executive director of the Massachusetts Newspaper Publishers Association, an organization that advocates for the First Amendment and freedom of the press. Earlier in his career, he was editor-in-chief of The National Law Journal and editorial director of ALM's Litigation Services Division.
31. Carissa Byrne Hessick
Social impact score: 1,498
Carissa Byrne Hessick is the Ransdell Distinguished Professor of Law at the University of North Carolina School of Law, where she also serves as the director of the Prosecutors and Politics Project.
Before joining the faculty at UNC, Carissa taught at the law schools of Arizona State, Harvard, and the University of Utah. Her work on the criminal justice system has been published by the Los Angeles Times, the Philadelphia Inquirer, Slate, and numerous academic journals. Her book about plea bargaining, Punishment Without Trial, will be published by Abrams Press in October.
30. Jonathan H. Adler
Social impact score: 1,540
Jonathan H. Adler is the Johan Verheij Memorial Professor of Law and Director of the Coleman Burke Center for Environmental Law at the Case Western Reserve University School of Law. He has been recognized as one of the most cited professors in the field of environmental law.
Jonathan's research is also credited with inspiring litigation that challenged the Obama Administration's implementation of the Affordable Care Act, resulting in the Supreme Court's decision in King v. Burwell.
Jonathan is the author or editor of eight books, including Business and the Roberts Court, Rebuilding the Ark: New Perspectives on Endangered Species Act Reform, and his most recent book, Marijuana Federalism: Uncle Sam & Mary Jane.
Jonathan is also a founding member of the website Checks & Balances.
29. Bobby Chesney
Social impact score: 1,562
Bobby Chesney holds the James Baker Chair and also serves as the Associate Dean for Academic Affairs at the University of Texas School of Law.
Bobby is also the Director of the Robert S. Strauss Center for International Security and Law, a University-wide research unit bridging across disciplines to improve understanding of international security issues.
28. Marty Lederman
Social impact score: 1,594
Martin "Marty" S. Lederman is the former Deputy Assistant Attorney General in the Department of Justice's Office of Legal Counsel (OLC), appointed by President Obama in January 2009. He previously served as an Attorney-Advisor in OLC from 1994 to 2002.
Marty has concentrated on questions involving freedom of speech, the Religion Clauses, congressional power and federalism, equal protection, separation of powers, copyright, and food and drug law. He helped draft the June 2010 memorandum authorizing the assassination of U.S. citizen and Islamic cleric Anwar al-Awlaki.
27. Leslie McAdoo Gordon
Social impact score: 2,221
Leslie McAdoo Gordon practices before all the federal agencies in security clearance, debarment, & employee discipline cases. She also represents people and companies in state and federal criminal investigations, prosecutions, and appeals.
Before becoming an attorney, Leslie was a Special Agent at the Department of Defense, conducting background investigations for security clearance.
Leslie has taught numerous courses about security clearances, expungement, and debarment law to various bar associations & groups and has testified as an expert in security clearances.
Leslie was recognized as a Top Lawyer in National Security Law by Washingtonian magazine, December 2015 Edition.
Leslie is a frequent commenter on Twitter and an opinion contributor to various online publications about legal developments and current events.
She presently represents Carter Page in his lawsuit against the U.S. Government for damages caused by the unlawful FISA warrants against him.
26. Raffi Melkonian
Social impact score: 3,834
Raffi has broad experience in both trial and appellate matters nationwide. He has briefed and argued dozens of appeals in federal and state courts of appeals around the United States.
Raffi also maintains an active practice in the United States Supreme Court, including both merits and amicus briefs. In 2019, Raffi briefed and argued Fort Bend v. Davis, where his client prevailed in a 9-0 decision written by Justice Ruth Bader Ginsburg. The Firm later successfully represented Ms. Davis in her jury trial on remand.
25. Quinta Jurecic
Social impact score: 3,952
Quinta Jurecic is a Fellow in Governance Studies at the Brookings Institution. She is a Senior Editor at Lawfare, where she was previously the Managing Editor and a contributing writer at The Atlantic.
Quinta's writing has appeared in the New York Times as well as the Washington Post, where she served as an editorial writer. She is the co-host of the Lawfare Podcast's "Arbiters of Truth" series on misinformation and disinformation, social media platforms, and the online information ecosystem.
24. Kimberly Atkins Stohr
Social impact score: 4,299
Kimberly Atkins Stohr is a senior opinion writer at The Boston Globe. She is also an MSNBC contributor.
Previously, Kimberly was the first Washington, DC-based news correspondent for WBUR. She has also served as the Boston Herald's Washington bureau chief, guest host of C-SPAN's morning call-in show's Washington Journal, and a Supreme Court reporter for Massachusetts Lawyers Weekly and its sister publications.
Kimberly has appeared as a political commentator on a host of national and international television and radio networks, including CNN, Fox News, NBC News, PBS, NPR, Sky News (UK), and CBC News (Canada).
Before launching her journalism career, Kimberly was a trial and appellate litigation attorney in Boston. Kimberly is a graduate of Wayne State University, Boston University School of Law and Boston University College of Communication, and the Columbia University Graduate School of Journalism.
23. Scott Shapiro
Social impact score: 4,890
Scott Shapiro is the Charles F. Southmayd Professor of Law and Professor of Philosophy at Yale Law School. His areas of interest include jurisprudence, international law, constitutional law, criminal law, and cybersecurity.
Scott is the author of Legality, The Internationalists with Oona Hathaway, and editor of The Oxford Handbook of Jurisprudence and Philosophy of Law with Jules Coleman. He earned his Ph.D. degree in philosophy from Columbia University and a J.D. from Yale Law School.
Scott is an editor of Legal Theory and the Stanford Encyclopedia of Philosophy. He is also the founding director of the Yale Cybersecurity Lab, which provides cutting-edge cybersecurity and information technology teaching facilities. His next book, entitled Insecurity, details the history and technology of internet hacking.
22. Margot Cleveland
Social impact score: 5,824
Margot Cleveland is a CPA and lawyer who previously served for nearly 25 years as a career law clerk for a federal appellate judge and was a full-time faculty member at the University of Notre Dame teaching in the college of business.
Currently, Margot Cleveland is a senior contributor to The Federalist. She is also a contributor to National Review Online, the Washington Examiner, Aleteia, and Townhall.com, and has been published in the Wall Street Journal and USA Today. Additionally, Margot Cleveland continues to teach as an adjunct both employment law and accounting to graduate students.
21. Jack Goldsmith
Social impact score: 5,966
Jack Goldsmith is a Learned Hand Professor of Law at Harvard University.
Before coming to Harvard, Jack served as Assistant Attorney General, Office of Legal Counsel, from October 2003 through July 2004. He was also on the Special Counsel to the General Counsel to the Department of Defense from September 2002 through June 2003.
20. Adam Liptak
Social impact score: 6,127
Adam Liptak is a Supreme Court reporter for The New York Times. Adam also writes Sidebar, a column on legal developments for the NY Times. A graduate of Yale Law School, he practiced law for 14 years before joining The New York Times's news staff in 2002.
Adam was a finalist for the 2009 Pulitzer Prize in explanatory reporting. He has taught courses on the Supreme Court and the First Amendment at several law schools, including Yale and the University of Chicago.
19. David Lat
Social impact score: 6,796
David Lat, the founding editor of Above the Law, is a writer, speaker, and a former legal recruiter at Lateral Link. He currently writes about law and the legal profession for Original Jurisdiction, a Substack newsletter and website, that he founded in 2020.
David's book, Supreme Ambitions: A Novel, was described by the New York Times as "the most buzzed-about novel of the year" among legal elites.
David previously worked as a federal prosecutor, a litigation associate at Wachtell Lipton, and a law clerk to Judge Diarmuid F. O'Scannlain of the U.S. Court of Appeals for the Ninth Circuit.
18. Orin Kerr
Social impact score: 7,660
Orin Kerr joined the Berkeley Law faculty in 2019 after serving as a professor at the University of Southern California Gould School of Law. From 2001 to 2017, he was a professor at the George Washington University Law School. Kerr has previously been a visiting professor at the University of Chicago and the University of Pennsylvania.
An accomplished teacher, Kerr received the outstanding teaching award from the George Washington Law School Class of 2009.
Kerr specializes in criminal procedure and computer crime law, and he has also taught courses in criminal law, evidence, and professional responsibility. He has written more than 60 law review articles, over 40 of which have been cited in judicial opinions (including seven articles that have been cited in U.S. Supreme Court opinions). His scholarship also has been cited by more than 3,000 academic articles.
In addition to writing law review articles, Kerr has authored popular casebooks, co-authored the leading criminal procedure treatise, and published countless blog posts at popular blogs such as The Volokh Conspiracy and Lawfare.
17. Jennifer Taub
Social impact score: 11,736
Jennifer Taub is a legal scholar and advocate, devoted to making complex business law topics engaging inside and outside of the classroom. Her research and writing focus on corporate governance, banking and financial market regulation, and white-collar crime. Similarly, her advocacy centers on "follow the money" matters, promoting transparency and opposing corruption.
Jennifer recently published a new book, Big Dirty Money: The Shocking Injustice and Unseen Cost of White Collar Crime, which will be published in paperback by Penguin in September 2021 with a new subtitle: Making White Collar Criminals Pay. She was also a co-founder and organizer of the April 15, 2017, Tax March where more than 120,000 people gathered in cities nationwide to demand President Donald Trump release his tax returns.
Jennifer is a professor of law at the Western New England University School of Law where she teaches Civil Procedure, Securities Regulation, White Collar Crime, and other business and commercial law courses. She was the Bruce W. Nichols Visiting Professor of Law at Harvard Law School during the fall 2019 semester.
16. Nina Totenberg
Social impact score: 11,820
Nina Totenberg is NPR's legal affairs correspondent. Her reports air regularly on NPR's newsmagazines All Things Considered, Morning Edition, and Weekend Edition.
Totenberg's coverage of the Supreme Court and legal affairs has won her widespread recognition. She is often featured in documentaries, most recently on Ruth Bader Ginsburg, that deal with issues before the court. As Newsweek put it, "The mainstays [of NPR] are Morning Edition and All Things Considered. But the creme de la creme is Nina Totenberg."
15. Ryan Goodman
Social impact score: 12,339
Ryan Goodman is a professor at New York University School of Law. He served as special counsel to the general counsel of the Department of Defense.
Before joining the law school, he was the Professor of Human Rights and Humanitarian Law and director of the Human Rights Program at Harvard Law School. Goodman has published articles in leading law reviews and has also co-authored several books, including the Socializing States: Promoting Human Rights Through International Law.
14. Ron Coleman
Social impact score: 12,962
Ron Coleman is a Partner at the Dhillon Law Group and resident in its New York office. Ron is a commercial litigator with extensive first-seat trial and appellate experience who focuses on torts of competition such as trademark infringement, unfair competition, and consumer law.
He is known for his First Amendment advocacy, regarding both religious and free speech rights, including his representation of Simon Tam and "The Slants" in the watershed free speech case, Matal v. Tam. In this case, The U.S. Supreme Court ruled that the prohibition against registration of "disparaging" trademarks was unconstitutional.
13. Madison Gesiotto Gilbert
Social impact score: 13,148
Madison Mari Gesiotto Gilbert is an American conservative commentator, columnist, attorney, figure skater, model, and beauty queen who won Miss Ohio USA 2014.
Madison is currently the author of a weekly column at The Washington Times titled "Millennial Mindset," which focuses on various American political, policy, and legal issues.
As a law student at Moritz College of Law, Madison was a staff editor for The Ohio State Journal of Criminal Law.
12. Steve Vladeck
Social impact score: 13,754
Stephen Vladeck holds the Charles Alan Wright Chair in Federal Courts at the University of Texas School of Law. Steve is a nationally recognized expert on the federal courts, constitutional law, national security law, and military justice.
Professor Vladeck has argued before the U.S. Supreme Court, the Texas Supreme Court, and various lower federal civilian and military courts; has testified before numerous congressional committees and Executive Branch agencies and commissions; has served as an expert witness both in U.S. state and federal courts and in foreign tribunals; and has received numerous awards for his influential and widely cited legal scholarship, his prolific popular writing, his teaching, and his service to the legal profession.
Vladeck is the co-host of "National Security Law Podcast." He is CNN's lead Supreme Court analyst and a co-author of Aspen Publishers' leading national security law and counterterrorism law casebooks. And he is also an executive editor of the Just Security blog and a senior editor of the Lawfare blog.
11. Will Chamberlain
Social impact score: 14,843
Will Chamberlain is a lawyer and the publisher of Human Events.
Will worked as an attorney at the Competitive Enterprise Institute's Center for Class Action Fairness in Washington, DC. Before that, he practiced complex commercial litigation at Quinn, Emanuel, Urquhart & Sullivan in Los Angeles.
Will graduated from Georgetown University Law Center in 2015 and is an active member of the State Bar of California and the District of Columbia Bar.
10. Harmeet K. Dhillon
Social impact score: 21,193
Harmeet Dhillon is a nationally recognized litigator, trusted boardroom advisor, and passionate advocate for individual, corporate and institutional clients. She is the CEO of the nonprofit Center for American Liberty and the founder of the Dhillon Law Group, a national litigation boutique focusing on commercial litigation, employment law, First Amendment rights, civil rights, and election law matters. Dhillon and the Center for American Liberty have successfully challenged California's COVID restrictions on religious liberty in the Supreme Court, and the state's restrictions on in-person schooling, at the 9th Circuit. Harmeet is a frequent media commentator on civil rights, election law, and political issues.
9. Marcy Wheeler
Social impact score: 21,837
Marcy Wheeler is an independent journalist writing about national security and civil liberties. She writes on her blog emptywheel.net, publishes at outlets including Motherboard, the New Republic, and Al Jazeera, and appears frequently on television and radio.
Marcy is the author of Anatomy of Deceit, a primer on the CIA leak investigation, and live blogged the Scooter Libby trial.
8. David Coltart
Social impact score: 27,173
David Coltart is a Zimbabwean lawyer, Christian leader, and politician. He was a founding member of the Movement for Democratic Change when it was established in 1999 and its founding secretary for legal affairs.
After completing his law degree in December 1982, Coltart returned to Zimbabwe. In January 1983, David went to work for the Webb, Low, and Barry law firm in Bulawayo. He was admitted as a Legal Practitioner of the Zimbabwean High Court in February 1983. In April of that year, he established the first Legal Aid Clinic in Bulawayo. He was appointed a partner of Webb, Low, and Barry in 1984 and became the firm's senior partner in 1998, a position he still holds.
Coltart is a Senior Research Fellow at The Kirby Laing Centre for Public Theology in Cambridge. He is the author of the South African bestseller "The Struggle Continues: 50 years of tyranny in Zimbabwe".'
7. Susan Hennessey
Social impact score: 29,190
Susan Hennessey was a Senior Fellow in Governance Studies at The Brookings Institution. There she focused on national security issues surrounding cybersecurity, surveillance, federal terrorism prosecutions, and congressional oversight of the intelligence community.
She also served as Executive Editor of the Lawfare blog. Following her Brookings tenure, Hennessey joined the Department of Justice in the National Security Division.
6. Kurt Schlichter
Social impact score: 29,745
Kurt Schlichter is a named partner at a growing Los Angeles firm as a trial lawyer. There he represents companies and individuals in matters ranging from routine business cases to confidential Hollywood and entertainment industry disputes and transactions.
Kurt is a member of the Million Dollar Advocates Forum, which recognizes attorneys who have won trial verdicts over $1 million. He's also a senior columnist at TownHall.com.
Kurt is a retired Army Infantry colonel with a master's degree in Strategic Studies from the United States Army War College, and a former stand-up comic. He's also an author of six military thriller books.
5. Benjamin Wittes
Social impact score: 31,388
Benjamin Wittes is a senior fellow in Governance Studies at The Brookings Institution.
He co-founded and is the editor-in-chief of Lawfare, which is devoted to sober and serious discussion of "Hard National Security Choices."
He is also a contributing writer at the Atlantic and a law analyst at NBC News and MSNBC.
4. Barb McQuade
Social impact score: 39,998
Barbara McQuade is a professor from practice at Michigan law. Her interests include criminal law, criminal procedure, national security, data privacy, and civil rights. From 2010 to 2017, Professor McQuade served as the U.S attorney for the Eastern District of Michigan. Appointed by President Barack Obama, she was the first woman to serve in her position.
Barbara also served as vice-chair of the Attorney General's Advisory Committee and co-chaired its Terrorism and National Security Subcommittee. As a U.S. attorney, she oversaw cases involving public corruption, terrorism, corporate fraud, theft of trade secrets, civil rights, and health care fraud, among others.
Barbara also serves as a legal analyst for NBC News and MSNBC. Her work has appeared in The Washington Post, Foreign Policy, Lawfare, Just Security, Slate, and National Public Radio, and she has been quoted in The New York Times, Time, Newsweek, Politico, and other publications.
3. Jill Wine-Banks
Social impact score: 47,358
Jill Wine-Banks is an MSNBC Legal Analyst, appearing on primetime and daytime shows. She also appears on PBS, Canadian and Australian networks, Sirius XM, NPR, and other radio shows, and podcasts. She has also written OpEd articles for NBC.com, Chicago Tribune, Washington Post, Politico, and Huffington Post.
Jill has also been featured in several documentaries and films, including Academy Award winner Charles Ferguson's Watergate, or How We Learned to Stop an Out of Control President, Robert Redford's All The President's Men Revisited, ABC 20/20, and Michael Moore's Fahrenheit 11/9. She also wrote a memoir, The Watergate Girl.
Ms. Wine-Banks has been the recipient of many awards, including from the United States Department of Justice, Illinois Legal Aid Online, the Women's Bar Association, and a Lifetime Achievement Award from Who's Who in America.
2. Neal Katyal
Social impact score: 62,862
Neal Katyal is the former Obama Administration Acting Solicitor General of the United States and is a New York Times best-selling author.
Neal runs one of the largest Supreme Court practices in the world at an international law firm, Hogan Lovells. There, Neal occupies the role formerly held by Chief Justice John Roberts.
Neal is a frequent contributor to MSNBC and the New York Times. He has also been named one of GQ's Men of the Year.
Neal also is the Paul Saunders Professor of Law at Georgetown University, where he was one of the youngest professors to receive tenure in the school's history.
1. Joyce White Vance
Social impact score: 72,608
Joyce White Vance is a Distinguished Professor at Alabama Law.
Joyce served as the U.S. Attorney for the Northern District of Alabama from 2009 to 2017. She was nominated for that position by President Barack Obama in May of 2009 and unanimously confirmed by the Senate in August of 2009.
Professor Vance served on the Attorney General's Advisory Committee and was the Co-Chair of its Criminal Practice Subcommittee.
As U.S. Attorney, she was responsible for overseeing all federal criminal investigations and prosecutions in north Alabama, including matters involving civil rights, national security, cybercrime, public corruption, health care, and corporate fraud, violent crime, and drug trafficking. She was also responsible for affirmative and defensive civil litigation on behalf of the government and all federal criminal and civil appeals.
Category
Save time with
Set contract reminders with Contract Hound and you'll never lose track of a contract again. Try it FREE for up to 10 contracts.
Never Lose A Contract Again
Never lose track of a contract!

Start Your Free Trial

Today.
Disclaimer
The contents of this website do not constitute legal advice and are provided for general information purposes only. You should seek appropriate legal advice before taking or refraining from taking any action based on the contents of this website. We accept no responsibility for any errors, omissions or misleading statements on this website, or for any loss which may arise from the use of information contained on this website.