Best Document Expiry Reminder Software: Three Packages Compared
Written by Contract Hound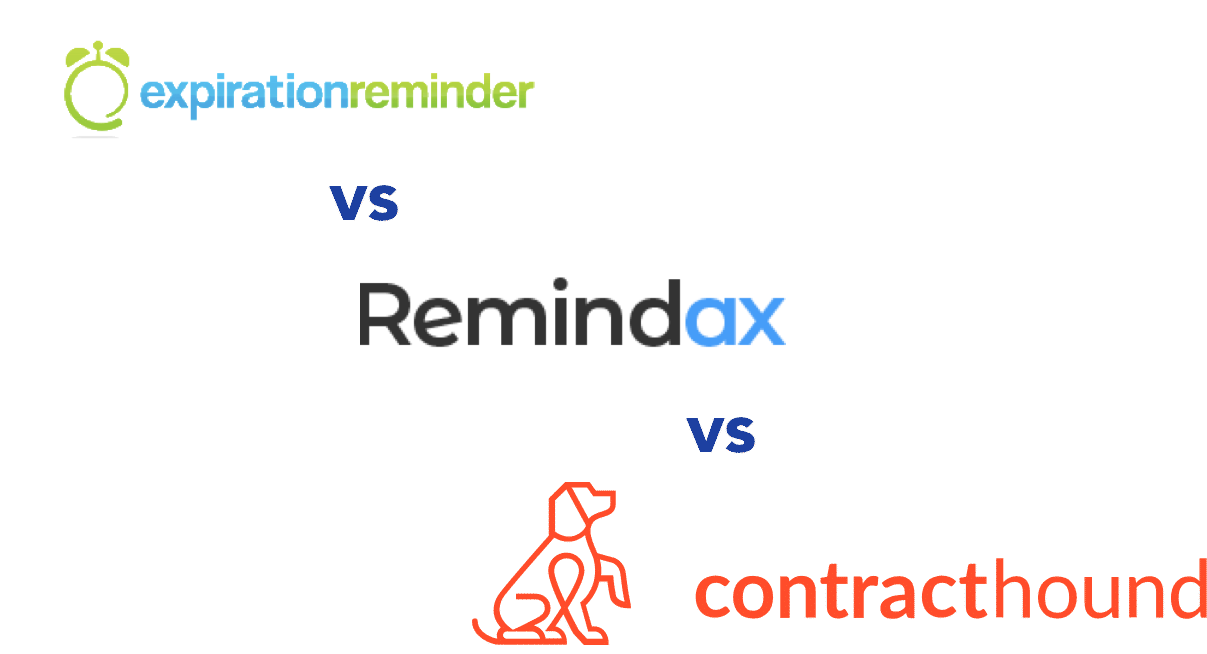 Do you ever get the nagging feeling that you're forgetting something? For instance, when is your insurance policy going to end? Your parking permit? Your mobile phone plan? That utility contract?
There's a lot for us to keep track of. And if you're a growing business, there's even more. So it's no surprise that more people are turning to document expiry reminder software, such as Contract Hound, ExpirationReminder, and Remindax. This week, we're going to take a look at all three.
Why is it useful?
Document expiry reminder software is a boon to small business owners. It's a way to make sure that you don't forget about the mundane, but important, things that you need to do. Instead of worrying about it, you can set up reminders for a few minutes a day, and forget about it until the reminder pops up.
For example, you can set it up to remind you when your utilities are about to expire, or when the insurance on your business vehicle is about to run out.
Many software packages will allow you to set multiple reminders for upcoming dates – so that you can be reminded 90, 60 and 30 days out, for example.
Even if you're not a business owner, it's useful for your personal life. You can schedule reminder emails to be sent to you a month before your mobile phone contract expires, for example. Getting an instant reminder to pay a bill can be a lifesaver!
How do I know if I should use it?
If you're wondering whether to use document expiry reminder software, then there are a few things you need to consider:
1. How much do you have to keep track of?
If you're a business owner, then you're probably going to have a lot of things to keep track of. There's your insurance, your utilities, your software licenses, subscriptions, and so on.
If you're just an ordinary person, then there's probably not as much. But if you have a lot of things to keep track of, then document expiry reminder software can make your life a lot easier.
2. How tech-savvy are you?
If you're not a techie, then this might not be the best solution for you. If you want to set reminders manually, then you can do that with a paper diary.
But if you're more comfortable with technology, then using a simple product is a great way to make sure you don't forget about anything important and can keep track of expiration dates.
3. What kind of things do you need to keep track of?
If you need to keep track of your insurance, then you might want to use an insurance reminder app. If you need to keep track of your utility bills, then you might want to use a utility reminder app.
The more specific your needs, the more likely it is that there's an app out there that can help you.
What features should I look for?
There are a few features you should look for in a document expiry reminder app:
1. Ease of use.
If you're a novice user, then you'll want an app that's easy to use. It should be easy to set up reminders and easy to manage them. All of our choices are fairly user friendly, but we'd say that Contract Hound and Remindax are probably more simple than ExpirationReminder.
2. Notifications.
You want the app to notify you when something is due. If it doesn't have notifications, then it doesn't do much good in tracking document expiration!
3. Flexibility.
You want an app that is flexible enough for you to use it for your own needs. It needs to handle expiration dates in the format you want to enter them (UK users dealing with US date formats, we hear ya!), and it needs to send reminders using the channels you're most comfortable with.
4. Integration.
You want an app that integrates well with your other software. For example, if you're a business owner, then you'll want to integrate it with your accounting software.
5. Free trial.
It's a good idea to try out the app first, to make sure that it's what you need.
You can use the sample as a checklist to make sure you're getting everything that you need in an expiry reminder app.
What are the top Expiration Reminder Software Packages out there?
In the rest of this article, we'll take a look at some of the top packages you'll find, and compare them using our checklist above. Starting with Contract Hound:
Contract Hound
Website: https://www.contracthound.com
We're the world's easiest contract renewal reminder software.
Contract Hound is different because we focus purely on small businesses – we don't have enterprise clients, and so our feature set is beautifully simple.
In the view of one of our customers:
"Contract Hound gave us the central location for which to store contracts… It allows you to store, manage and view your contacts in one secure platform that ensures you never lose or miss a contract renewal ever again."
Now, you'll have noticed that we're focused on contracts, which is very deliberate. Contract Hound is ideal for time-limited contractual documents that you simple mustn't forget about (think sales agreements, renewals, insurance policies, etc etc).
Unlike Remindax and ExpirationReminder, Contract Hound is also focused on storage, which makes it a handy lightweight contract management tool. If you need a document repository alongside your document expiry reminders, Contract Hound is for you.
How do you set up a document expiry reminder?
In Contract Hound, doing this is easy:
1) Upload your document
You can add five at a time using the easy drag and drop functionality.
Share access
Add your whole team, or just specific individuals, so that everybody has the right level of access.
Add a reminder
Click the big green 'add a reminder' button on the document.
Assign your reminder
You might be setting this for yourself, or for somebody else. Either way, write a descriptive message and save your reminder. It'll be returned to you on the day as an email reminder.
A word on pricing
If you're keeping personal documents, Contract Hound may not be the right choice – we're more expensive than our other two choices, because we're business-focused and have a more powerful feature set.
Free trial? Yes, available online here.
Remindax
Website: https://www.remindax.com
Remindax is billed as "Simple Reminder Software for Small Businesses". It's used by over 10,000 teams in multiple countries, according to the owner, and it's really built on simplicity.
Ease of use? 6/10 – Remindax is easy to set up and use
Notifications? 7/10 – Slack, SMS Whatsapp and email are possible notification channels.
Integrations? 2/10 – Remindax isn't great with integrations.
Free Trial? Yes, available here
ExpirationReminder.net
Website: https://www.expirationreminder.net
ExpirationReminder.net is a SaaS solution for small businesses looking to keep track of their expiring documents. It's easy to set up, and the service is used by over 10,000 customers.
Ease of use? 3/10 – ExpirationReminder is more complex than it need to be.
Notifications? 6/10 – Pretty basic, but it works.
Integrations? 9/10 – ExpirationReminder excels here. Integrations with Trello, Pipedrive, Zendesk, Asana and many others work right out of the box. Plus, there's an API.
Free Trial? Yes, available here
Category
Save time with
Set contract reminders with Contract Hound and you'll never lose track of a contract again. Try it FREE for up to 10 contracts.
Never Lose A Contract Again
Never lose track of a contract!

Start Your Free Trial

Today.
Disclaimer
The contents of this website do not constitute legal advice and are provided for general information purposes only. You should seek appropriate legal advice before taking or refraining from taking any action based on the contents of this website. We accept no responsibility for any errors, omissions or misleading statements on this website, or for any loss which may arise from the use of information contained on this website.