ContractSafe vs. ContractWorks vs. ContractHound
Written by Contract Hound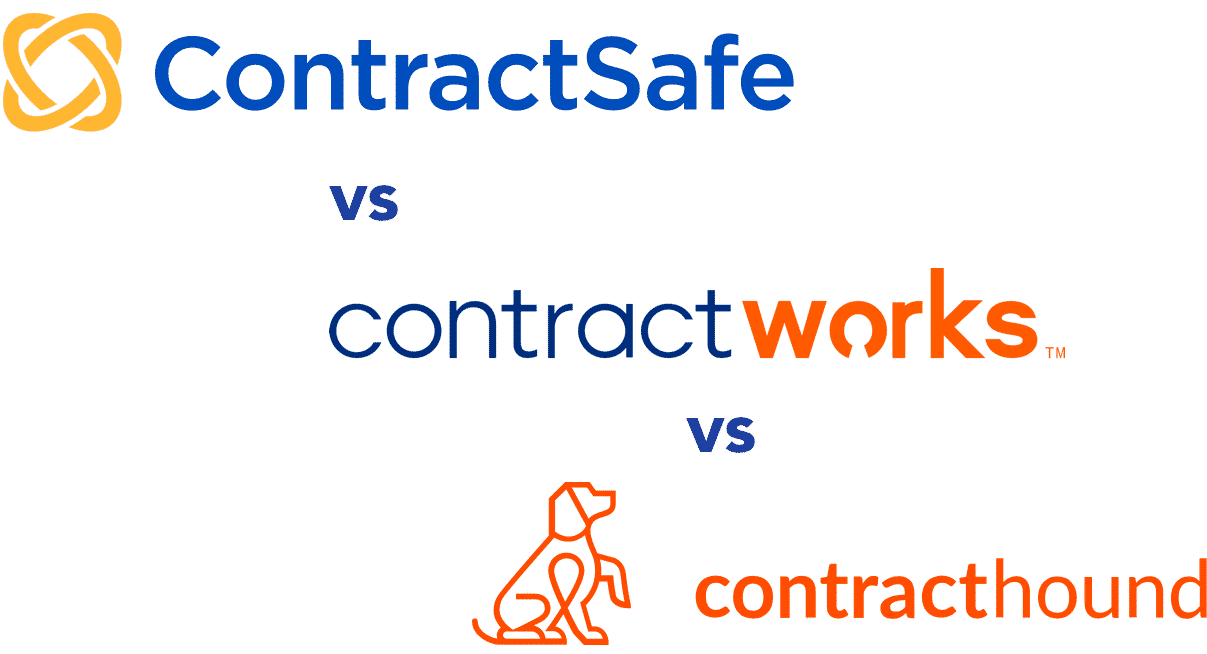 So many contracts. So many brand names. Such little time! But if you're wondering about the differences between ContractSafe vs ContractWorks, we're here to help. And perhaps also to persuade you that Contract Hound might be a better choice… As well as being more imaginatively named 😬
Here's what we'll cover:
Contract Hound: An Affordable Contract Management Option
Contract Hound provides the "world's easiest contract management software", that organizes and stores your contracts.
The service allows you to set up reminders for important milestones, such as contract renewal dates and expiration dates.
With a drag-and-drop interface, Contract Hound allows you to upload contracts like a breeze.
You and your team can also enjoy access to secure sharing and collaboration features, allowing you all to access contracts whenever you please.
Contract Hound primarily focuses on the needs of smaller, simple businesses. With an intuitive interface and support for easy storage and organization, you'll find Contract Hound is easier to work with than ContractSafe or ContractWorks. 
Contract Hound Strengths
Unlimited Users and Alerts
Contract Hound doesn't place caps on the number of users that can access its system or the alerts you can get from using it.
Contract Hound is optimized for desktops, laptops, and mobile. Whatever device you use, rest assured that you can easily manage your contracts using the service.
Contract Hound also provides integration with DocuSign, so you can add electronic signatures to your contracts. All signatures will be synced and can be saved directly in Contract Hound.
Contract Hound Weaknesses
Like the other services, Contract Hound also doesn't allow support for contract creation. So, you can only take contracts and upload them. Since there are no contract templates, nothing concerning contract creation is enabled here.
Categorization on Contract Hound is also limited to some custom fields and basic folders, and you can't access native contract viewing and OCR search features. If you need these and you're comparing ContractSafe vs ContractWorks vs Contract Hound, ContractSafe might be a better bet.
ContractHound Pricing
Contract Hound has a different pricing structure to ContractSafe or ContractWorks. Instead of providing a base fee, the service determines your fee based on the number of contracts you want to work with.
The lowest plan covers 50 contracts, and it costs $95 monthly. It adds $95 to your tab as you add 50 more contracts, and the highest plan – which covers 500 contracts – costs $950. If you would like to work with over 500 contracts, you will need to contact Contract Hound directly. Discounts are available for annual pricing, and also for non-profits.
ContractSafe: AI-Assisted Contract Management Solution with Advanced Integrations
ContractSafe is a reliable contract management solution that provides effective features and affordable pricing plans. However, the service focuses primarily on additional functionalities beyond just contract authoring. With ContractSafe, you can easily share your contracts, search and report, store, and set security alerts.
ContractSafe focuses primarily on targeted management, as opposed to full contract lifecycle management. It keeps things simple, leaving out things like contract creation and editing capabilities.
Instead, you get a straightforward user experience that is easily navigable. You also get all the documents, data, and alerts you need to manage all contracts in the system.
ContractSafe Strengths
AI-Based Contract Management
ContractSafe provides integration with an in-built artificial intelligence system. With it, you will find it much easier to organize your contracts. In theory, the system allows you to save time and money, thanks to its quick automatic extraction capabilities, although we've heard that accuracy of such AI-based extraction systems can be patchy (and it's really frustrating to end up paying for something that doesn't work!).
ContractSafe also provides integrations with services like Salesforce and DocuSign. The Salesforce integration allows you to send contracts directly from ContractSafe, keeping them all in a single repository. With DocuSign, you can import electronic signatures into your contracts in case you need them signed quickly.
You can track contracts every step of their journey. Save yourself from issues like disorganized version control, missed deadlines, and lost contracts.
ContractSafe's Weaknesses
While ContractSafe is a popular choice, it does come with some weaknesses.
For instance, ContractSafe doesn't allow you to create and author contracts. At the same time, the service doesn't allow you to edit contracts. So, if you don't have a well-authored, well-edited contract ready to go, ContractSafe won't help you.
ContractSafe Pricing
ContractSafe comes with the following pricing options:
Basic Plan: The plan costs $299 per month. It allows up to 500 active contracts, with unlimited users easy uploads, unlimited attachments, and unlimited archiving.
Standard Plan: This is the most famous pricing tier available. It costs $499 per month, and it allows you to work with up to 1,000 active contracts. Additional features include DocuSign integration, multiple saved views, and 50 jump start contracts.
Professional Plan: This plan costs $699 a month, allowing up to 2,500 active contracts. Additional features on this plan include two-way DocuSign integration, Zapier integration, 100 jump start contracts, and a virtual data room.
Enterprise Plan: With a price tag of $899 per month, the Enterprise Plan allows up to 5,000 active contracts. Advanced features in this plan include SalesForce integration, API integration, 200 jump start contracts, and IP whitelisting.
Find out more about pricing plans on the ContractSafe pricing page.
ContractWorks: Easy, Intuitive Contract Management on the Go
You can read the comparison between Contract Hound vs ContractWorks here.
ContractWorks is an intuitive contract management system that provides several advanced features and promotes stress-free contract management. It helps you to manage as many contracts as you have, organize your details, and much more.
With ContractWorks, you get a secure, organized, and searchable repository that allows you to author, store, and track corporate contracts. Thanks to its simple interface and a drag-and-drop function, navigating through ContractWorks is pretty simple.
There is also an effective support team that is ready to assist at all times.
An oft-mentioned feature inside ContractWorks is tags. You can set tags in the system to be any field you would like to make searchable or recordable.
For instance, you could create a "Confidentiality" tag to turn the setting on or off for a specific contract. With tags, you can enjoy even more flexible categorization, as well as being able to set tags inside documents.
ContractWorks Strengths
ContractWorks allows you to split contracts based on category. So you can Contracts are varied across finance, human relations, and finance. You can also segment your contract based on industries, with options including technology, manufacturing, and healthcare.
ContractWorks allows you to search key terms and more in a matter of seconds. The service also allows you to review these clauses and terms, so you don't have to stress over quick operations.
ContractWorks allows you to add electronic signatures directly into your contract. This is an innovation over several other competitors, which usually require integration with DocuSign and other e-signature software.
ContractWorks also provides access to industry-leading security features, so you can rest easy knowing that your documents and contracts are safe.
Ready-to-use Contract Templates
Instead of asking you to create and upload your contracts, ContractWorks comes with standard contract templates. All you need to do is edit the template with the appropriate detail and send it out.
ContractWorks Drawbacks
ContractWorks suffers from some of the same drawbacks as ContractSafe. You can't create contracts from scratch, so it won't be easy for you to handle tasks like negotiations and more. ContractWorks also features fewer reporting tools vs ContractSafe.
With limited workflow automation and version control, ContractWorks also lags a bit behind its competitors, according to reviews which we've consulted online.
ContractWorks Pricing
Let's not kid ourselves. ContractWorks is expensive – and we're deeply skeptical of contracts which run into the five figures being paid in advance for an entire year. It just doesn't work for many small businesses.
Still, if you're a risk-taker, here's how the plans break down:
Standard Plan: The plan costs $600 monthly. It offers support for 2,500 documents, an unlimited number of users, and five electronic signature licenses.
Professional Plan: The plan costs $800 monthly. It supports 10,000 documents, an unlimited number of users, and ten electronic signature licenses.
Enterprise Plan: The plan costs $1,000 monthly. It includes unlimited users, an unlimited number of documents, and 20 e-signature licenses.
More info is on the ContractWorks pricing page here.
Which is right for you – Contract Hound, ContractSafe, or ContractWorks?
Contract management software is a complex business – tons of options, and often not much to choose between them.
However, we'd say Contract Hound is the easiest contract management tool on the market. It's doubtless best-suited for small businesses who want uncomplicated processes and something that can be set up quickly. You can start using Contract Hound free today.
Larger businesses are probably better off with ContractSafe – it's fully-featured, very capable of handling multiple teams and users, and many documents. ContractWorks might be a better choice as the "in-between" option – it does the job, is better suited for mid-size business than Contract Hound is, and is an unfussy, uncomplicated option.
For more reviews of software, take a look at our contract management software page, which includes some more options.
Category
Save time with
Set contract reminders with Contract Hound and you'll never lose track of a contract again. Try it FREE for up to 10 contracts.
Never Lose A Contract Again
Never lose track of a contract!

Start Your Free Trial

Today.
Disclaimer
The contents of this website do not constitute legal advice and are provided for general information purposes only. You should seek appropriate legal advice before taking or refraining from taking any action based on the contents of this website. We accept no responsibility for any errors, omissions or misleading statements on this website, or for any loss which may arise from the use of information contained on this website.