Concord vs Agiloft: Which is best for you?
Written by Contract Hound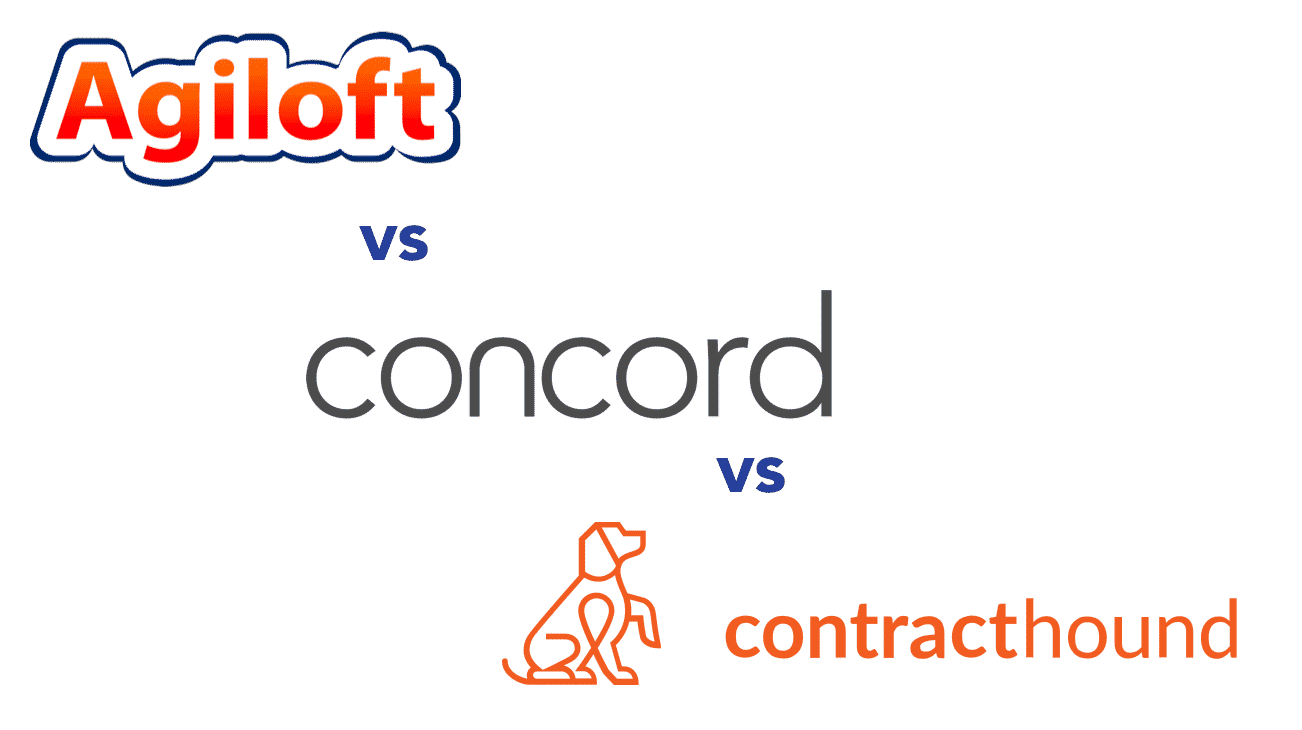 In this blog post, we'll be pitting two of the biggest names in contract management against each other in a Concord vs Agiloft showdown of the titans – but we'll also take a look at why Contract Hound, with its simpler user interface and streamlined feature set, might actually be a better choice…
This comparison matters, whether you're an enterprise-level corporation or a small business startup. Modern companies have no time to shuffle back-and-forth to bring a contract to life. That's exactly why contract management software exists.
There's no shortage of contract management systems. Easy packages like Docusign and Contract Hound compete with Concord or Agiloft. So how do you know which one is best for you?
You can skip ahead if you need to:
Contract Hound
Contract Hound is known for its simplicity and user-friendliness to small businesses. In fact, it is the easiest contract management system on the market. Some of its main features and benefits include:
Cloud-based Storage. The days of pulling contracts from storage bins and filing cabinets are not as far behind us as we would like. Moving contracts to the cloud allows small businesses to complete their workflow faster. This frees them to work on what matters – their business.
Real-time Updates. Contracts often undergo a series of changes before the final version. Tracking them all is an important part of maintaining compliance. Contract Hound keeps tabs on all your changes, so you'll always know what you're signing.
App integration. Integrates with Docusign, so that you can get all your documents signed.
So far, so standard, right? But a few things set Contract Hound apart from the competition:
5-second uploads – The most-used Contract Hound feature is the fastest. Most uploads are done in a few seconds, with minimal hassle. This makes Contract Hound great if you're handling lots of contracts.
User-friendliness – A simple user interface and a design that works on all screen sizes. You'll get the features you need to fix your contract processes, but without the clutter.
Drag-and-drop approval workflow engine – The point of a contract is to make sure everyone is on the same page. With our workflow engine, companies may keep track of each party that needs to sign on. From sales to finance to HR, users can see which department still has work to do.
Who is Contract Hound great for?
Small businesses with under 100 employees and no in-house legal counsel. This group will find Contract Hound sophisticated enough for their needs.
Past a certain point, larger businesses will need more customization. Here, Concord may be a better choice. Contract Hound is still an ideal choice for smaller manufacturers and non-profits. It's also a good fit for companies which deal with a lot of documentation but aren't contract-driven (i.e. they're not lawyers/legal or real-estate firms).
Contract Hound Pricing
Some companies have complex pricing structures that force clients to pay by the user. Contract Hound's prices are as simple as their software. This makes them perfect for small businesses.
The 14-day trial is free for up to 50 contracts, after which the monthly price is $95 per 50 contracts. After that, the price scales up to $190 for 100 contracts, and so on — and there is no contract required.
To sum up:
Contract Hound's simplified approach gives it the features most small businesses need. It's easy, without all the fluff.
But as we'll see, when comparing Contract Hound vs Concord vs Agiloft, pricing and ease of use are only half the story…
Agiloft
Agiloft is widely regarded as the industry leader in contract management software for large corporations, and for good reason.
The primary features that stand out with Agiloft are:
Flexibility – Agiloft is best known for its customizable platform. From selecting mobile interface displays to number of contracts that populate at once to a home tab that can be configured according to preference, nearly all features of the Agiloft can be customized to fit the user's needs.
Data analytics – Both basic analysis and specific breakdowns of contractual components are available through Agiloft, enabling users to gain insights into which parts of their contracts are working, and which ones need rephrased.
Who is Agiloft great for?
Overall, Agiloft offers an agile contract management system to users in need of advanced capabilities, who are following agile methodology inside their organizations and have a well-defined set of processes they need to follow.
That said, we think Agiloft has a steep learning curve and may prove unnecessarily complex for small businesses and startups. The value you get from such an advanced system is incredible – we're just not wholly convinced most companies will actually make use of it.
Make no mistake – Agiloft is a platform for the enterprise.
Agiloft Pricing
Although Agiloft does offer a free small business package for up to 5 users and 5 customers, this version comes with limited capabilities like less frequent timer-based rules and a daily email cap. The plans costs from $65 per month, according to Capterra, but the whole thing is pretty opaque. A Professional Extended plan is priced at $95 per license per month.
Agiloft's pricing is also complex, because they distinguish between different types of users. For example, Assigned Power Users are treated differently from "Portal Users" and will require specific licenses, which makes figuring out estimated costs fairly complex.
Finally, Agiloft bills annually. Fine for some larger companies, but a huge blocker for smaller businesses.
Concord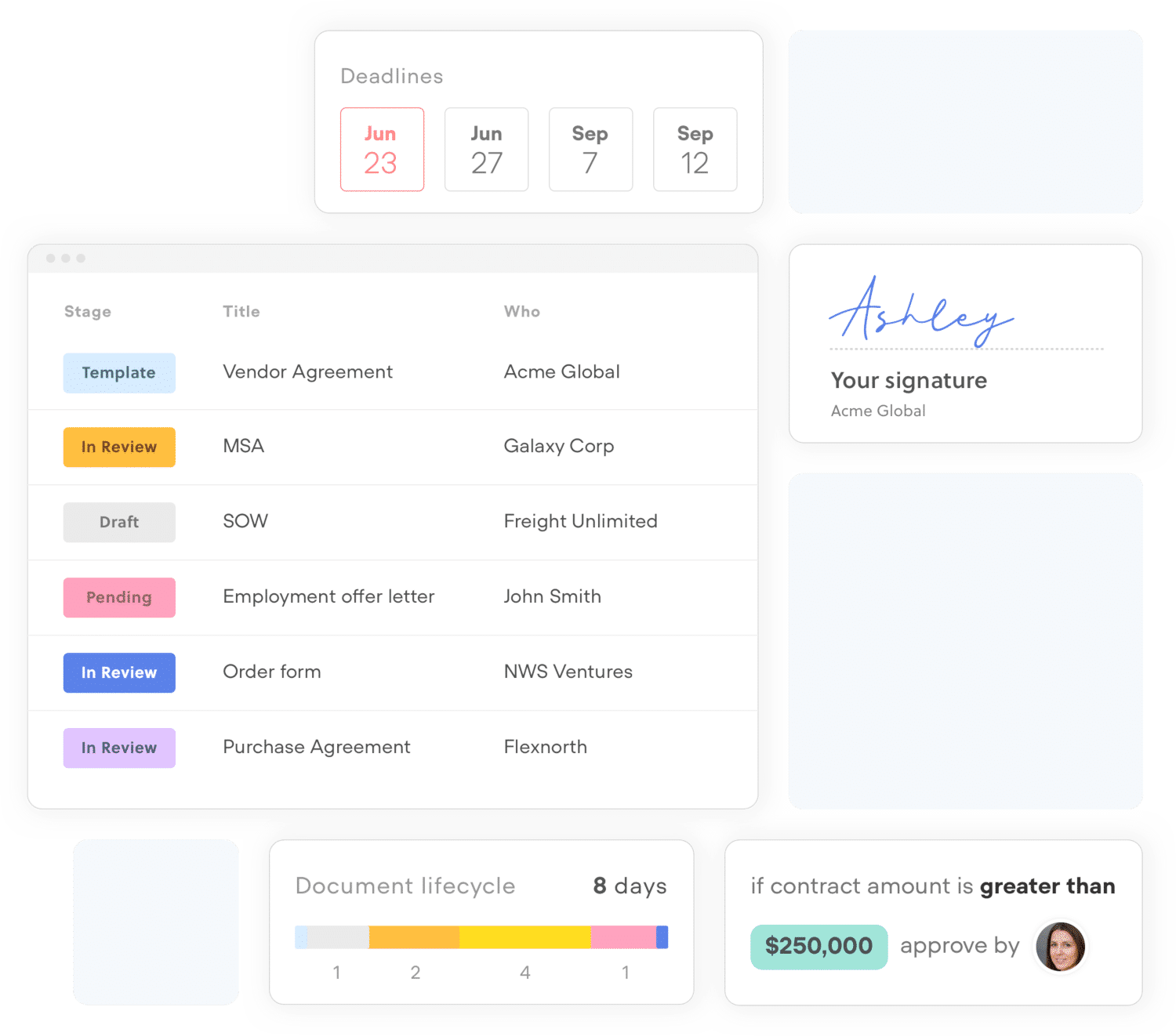 While Agiloft is more flexible for larger corporations, Concord is more scalable according to user needs.
Basic services like document storage and e-signing come with every package, but more advanced features like workflow engines and deadline reminders are only offered and higher-level (and more expensive) packages. This makes Concord more suitable for medium-sized businesses, who might struggle to get everything done with Contract Hound but don't want the complexity of Agiloft.
Here's a breakdown of their services:
Variable selection – Up to three templates are offered in Concord's free package, while the clause library and custom branding features can only be found in their enterprise offer.
Reports and Insights – Although Concord has customizable reporting capabilities, these are only offered in the Pro and Enterprise packages, so more basic packages will have less room to make their reports their own.
Integrations – Concord links nicely into a variety of external services, including Google Drive, Box and Salesforce.
Who is Concord great for?
For smaller businesses, Concord vs Agiloft is a no-brainer– you'll find that Concord is far more suitable, and is evenly matched against Contract Hound.
Concord is great for companies who have clearly defined legal requirements, and will probably have an in-house counsel or professional contracts team managing documentation inside the business. For companies like this, of over 100 people, we wouldn't hesitate to recommend Concord.
For more simple businesses, with fewer than 100 employees, Contract Hound may be a better choice – Concord is powerful, but overloaded for smaller-sized businesses. There are also some pricing considerations which small businesses should bear in mind (more below).
Concord Pricing
We much prefer Concord's pricing structure compared to Agiloft's.
Concord offers four different tiers for their contract management services: Free (free), Standard ($17/user/month), Pro ($34/user/month), and Enterprise (you'll have to call for that one).
You can pay monthly, which is a bonus for smaller businesses who are just getting started – though an annual contract will save you 25% on average.
However, going back to our point earlier, we think Concord's pricing will prove extremely unattractive for smaller businesses, because of their per-license pricing structure. If you've got 5 people using the system, $17 per user per month is a great deal – but once you're on 50 users, Concord becomes extremely expensive, even if you're only storing a few documents per user. If your whole organization needs access to certain documents, Contract Hound is probably a better choice for you.
All things considered, Concord has enough capabilities to optimize your contract management processes, but which features you'll get depends largely on the price you choose to pay.
Conclusion: Concord vs Agiloft vs Contract Hound
We've shown that there's no shortage of contract management systems — and given the importance of an efficient contract formation process, you can see why. You can read our full guide to choosing contract management software here.
Larger corporations will likely need the flexibility and insights offered by Agiloft, but the learning curve and clutter may outweigh the benefits for small businesses seeking a simple solution.
Meanwhile, Concord can be scaled up to provide the comprehensive contract services a business may need, but those looking for a specific feature may have to purchase a more advanced — and more expensive — package to get it.
Enter Contract Hound. Our no-nonsense interface coupled with workflow streamlining power gives small businesses all the contract tools they need, and nothing they don't. Add to that our simple, affordable prices that give you the same services no matter how big you are, and Contract Hound emerges as the go-to contract management software for small businesses and non-profits everywhere. Don't believe us? Contact us today for your 14-day free trial.
Category
Save time with
Set contract reminders with Contract Hound and you'll never lose track of a contract again. Try it FREE for up to 10 contracts.
Never Lose A Contract Again
Never lose track of a contract!

Start Your Free Trial

Today.
Disclaimer
The contents of this website do not constitute legal advice and are provided for general information purposes only. You should seek appropriate legal advice before taking or refraining from taking any action based on the contents of this website. We accept no responsibility for any errors, omissions or misleading statements on this website, or for any loss which may arise from the use of information contained on this website.