Best 5 Contract Approval Software in 2023: In-depth Guide
Written by Contract Hound
Customers use contract approval software for better contracting process. More often than not, the missing part is a way to manage contract approvals.
You know the pain – you need to order a big piece of machinery, but it needs to be signed off by accounting before you can.
This kind of internal flow holds up company business for days, sometimes weeks. All because a piece of paper is sitting on someone's desk!
So this week, we decided to take a look at cloud-based software that's used only for contract approvals.
What is contract approval software?
Essentially, it's a type of software used for approving contracts. It's like contract management software, but not as complex.
By giving employees the ability to submit and track contracts, contract approval software usually increase timeliness and productivity inside a company.
How?
When the contract is processed using software instead of email or fax (yes, it still happens!), the approval is in a matter of hours, down from days.
Let's say the process looks something like this:
You prepare the contract.
Leaders and stakeholders review it.
Managers approve the contract.
Your company sends the contract to the customer, client, or vendor.
The parties agree and sign the contract.
That process involves a lot of touchpoints on a single document.
No wonder that in the health industry alone, this costs a lot. Black Book estimates manual contract management costs almost $157 billion dollars per year!
Now, imagine the above process, with all the touchpoints automated.
Automated alerts and reminders can ensure that everyone involved in the process is aware of their next task and when it's due.
Feedback can be added to highlights, which are then sent back to requester for review.
And the document moves through smoothly, from internal signoff to external signoff.
That's what contract approval software can offer.
How does contract approval software differ from contract management software?
Although most contract management software can be used to approve contracts, contract approval software is designed only for this purpose.
The differences between the two types of software are:
Contract management software offers multiple functionalities, such as document management, scanning, tagging, storage, collaboration and more, whereas contract approval software is specifically for the purpose of contract approval.
Contract management software is typically more expensive than contract approval software, because it's more fully-featured.
Contract management software is typically used by an entire organization and by external third-parties such as legal counsel. Contract approval software is often used by only one or two departments or functions (for example, a purchasing team or accounting team).
Contract management software can be integrated with other software, such as accounting software, whereas contract approval software may not be designed to integrate so well.
When should I choose contract approval software instead of a full contract management solution?
If your company only needs contract approval functionality, then it may be cheaper to just use contract approval software rather than a full contract management system.
What should I look for?
Contract approval software suitable for a small business will need at least the following features:
The ability to upload contracts to the cloud
Automated approval notifications to everybody involved in the approval process
A place for approval discussions and requests
Change management functionality, to ensure any changes are logged properly
Full visibility of the contract's status to the contract originator – so they know which 'desk' the contract is waiting at!
Which is the best contract approval software of 2023?
For the purpose of this blog post, we'll assume that you're looking for a contract approval software that is affordable, easy-to-use, and flexible.
Contract Hound's focus is on simplicity. We've designed our software to be very easy-to-use.
Contract approval in Contract Hound can work in two ways:
1) The contract is uploaded, approvers are selected in a 'chain' and click-to-approve emails are sent out to each on in turn
2) Docusign can be used to request formal signatures using their e-sign solution, and the e-signature status is fed back to Contract Hound.
Contract Hound also automatically takes care of reminders, and can provide an overview for the contract originator, so that they're aware of which person or team is holding up the approval process. Reminders can also be sent easily from the software in a single click.
Contract Hound is ideal for small and medium-sized companies looking for a simple and affordable contract approval software solution. Contract Hound offers a free 14-day trial.
2) Integrify
Integrify is a great way to take much of your internal management processes to the cloud. You can quickly build custom approval processes, so there's no more clunky document sharing.
Reviewers can comment, revise and share additional documents as part of the approval process, which makes it a powerful way to get work done if you're not already using a cloud-based collaboration tool such as Google GSuite.
Integrify might be a bit much for small businesses of fewer than 10 people – it's a really powerful tool – but it's a good pick for companies who know they need to make a significant investment in internal processes.
3) ProcessPlan
If your contracts are part of defined workflows which don't vary over time, we'd recommend using ProcessPlan. This software allows you to draw out business processes and ensure that they're followed by everybody, incorporating contract approvals into your workflows.
4) Frevvo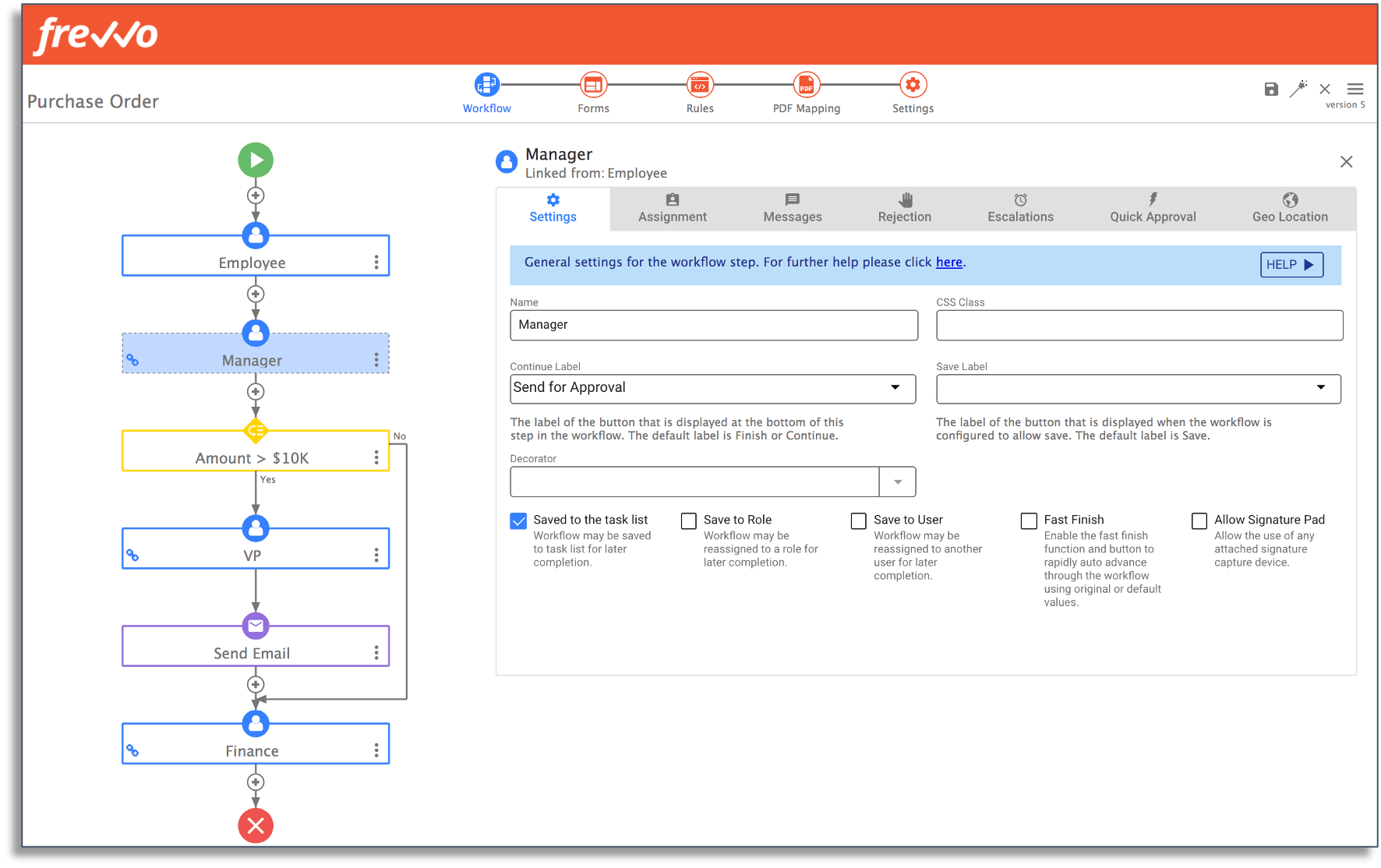 Another tool which is miles from full contract management software, but a good solution for contract approvals. Frevvo lets you draw out processes, using easy graphical editing to add conditions. For example, you might want a contract approval process which only requires signoff if the contract is over $1000. Setting up this kind of workflow is easy with Frevvo.
Frevvo also deserves a mention for its many API connections, which make it easy to integrate with other systems.
5) PandaDoc
PandaDoc is technically a fully-featured contract management software, but we'll give it a shoutout because the approval workflows are good.
Approvals are managed at the template level, which makes PandaDoc a good choice if you're constantly sending sales contracts (which are based on templates) for approval, for example.
We also liked the conditional approvals functionality, which allows you to set conditions for automatic 'waving through' – e.g. if the contract is below a certain value.
You can see how PandaDoc compares to Contract Hound.
Bottom Line: Should you choose a contract approval software?
If you're suffering internal process delays and you're looking for a quick fix, then contract approval software is a great place to start.
It may not be the most comprehensive software solution. But, it's a great first step in improving your internal processes.
It's also a good way to start getting used to a cloud-based solution, which is key for modern small businesses.
If you're at the stage where you want to make a significant investment in internal process improvement and you're looking for a software that will take you through the process, then you might want to check out our piece on the best contract management software.
Category
Save time with
Set contract reminders with Contract Hound and you'll never lose track of a contract again. Try it FREE for up to 10 contracts.
Never Lose A Contract Again
Never lose track of a contract!

Start Your Free Trial

Today.
Disclaimer
The contents of this website do not constitute legal advice and are provided for general information purposes only. You should seek appropriate legal advice before taking or refraining from taking any action based on the contents of this website. We accept no responsibility for any errors, omissions or misleading statements on this website, or for any loss which may arise from the use of information contained on this website.